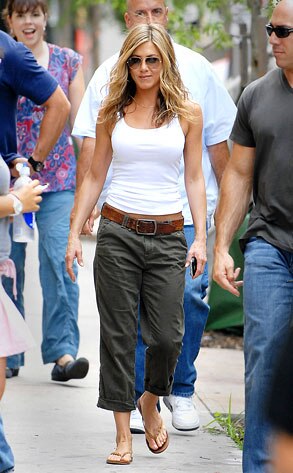 How come every picture of Jennifer Aniston looks the same, with formfitting tank tops and long, flowing hair? Is it in her contracts?
—E.R., Concord, N.H.
Oh, don't stop there. Let's not forget the corpuscle-strangling dresses Jennifer Aniston wore in The Break-Up or that painted-on tank top she sports in The Bounty, currently in production. Not everything Aniston wears in mags and movies is tight, of course. And Aniston wears big overalls in Marley & Me, but under them? Yes! There it is!
A tiny tank!
No, costume designers and wardrobe people tell me, tank tops don't generally appear in a star's contracts. But that isn't to say that stars can't be total clothing divas. Blind item, anyone?
Take the case of one major actor—currently on a top prime-time sitcom—who once starred in a post-World War II comedy. Despite the fact that it was a period piece, the actor insisted on wearing only Armani—modern Armani. The poor costume designer tried to finesse the actor into reconsidering, but in the end the director decided it wasn't worth the battle and the guy wore modern suits while everyone else wore period costume.
"If they're really A-list, actors can really dictate quite a bit about costume," says top costume designer Jill Ohanneson, who graduated from the Fashion Institute of Design and Merchandising before going on to work with Drew Barrymore, Sandra Bullock and ScarJo.
The star demands may not happen right away. First the director sets the tone of a film, the costume designer researches character and period, then presents sketches to the boss. Once fittings start, the actor may start to get fidgety.
"It's a very delicate process," Ohanneson says. "But if you're a very good designer, you're able to get the actor to the right place without the talent feeling too manipulated or managed."
Ditto with stylists on magazine photo shoots.To be fair, Aniston may just be following the vision of her film directors or photographers.
"She tends to play simple, approachable girls," amazing costume designer (and fellow FIDM grad) Mona May tells me. "Jeans and T-shirt girls. I haven't really seen her in a fashionista movie or a period film."
But no doubt if Aniston showed up on The Tudors, her corset would be super tight.