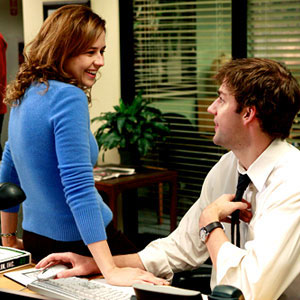 That's right, Dunder Mifflinites. Little Pam Beesly (Jenna Fischer) and the love of her life, Jim Halpert (John Krasinski), are officially walking down the aisle after five years of will-they-won't-they goodness.
In the midst of TCA madness, the gracious folks at NBC invited us to tour the set and enjoy a chat with the entire cast and crew of The Office—minus one Dwight Schrute (Rainn Wilson), but it was still incredible and came jam-packed with, what else, scoop on Jam.
The obvious question on everyone's mind: When exactly will the preggo pair say "I do"? "Pam's going to walking down the aisle very soon because she is pregnant, but trying to hide that from certain members of her family," Jenna tells us. "They're getting married very quickly—in the fourth episode."
(Excuse us while we quietly jump for joy in a corner somewhere…)
In fact, the third episode of the season was being filmed today and Jenna was in full bride mode. "I just had a fitting for Pam's wedding dresses and that was a really special moment. We found one, and I hope it gets approved by the powers that be."
Don't expect the affair to be too sentimental. "It should be pretty great. I got to see some of the episode and it's really funny."We're eagerly anticipating more Dwight-related Wedding Crasher-esque antics.
Jim and Pam are getting hitched! Are you as excited as we are? What about some Dwangela nuptials? Let us know.