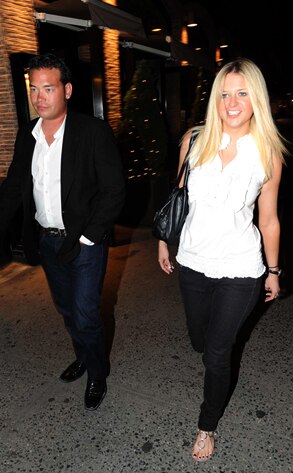 OK, obviously Jon Gosselin and Hailey Glassman are still, at the very least, very fond of partying with each other.
So what does that mean now for Kate Major, who quit her job as a Star reporter just weeks after hooking up with her interview subject and says she has never fallen for someone "so quickly"?
It probably doesn't mean anything too great, but Major exclusively tells E! News that she believes Gosselin does indeed have feelings for her...but now just might not be the right time.
"I definitely think Jon has feelings for me and cares about me a lot," Major said in her recent exclusive sit-down with E! News.
When asked if she thinks the father of eight would be interested in settling down again, she said, "This time I'm not sure what he wants to do...I mean, who can really close the book at 32?"
Not that swapping vows with Gosselin is what Major is hoping for at this point, considering she's still "not sure" she wants to be stepmom to all the Gosselinettes, and because most of their interaction these days is over the phone.
"I think Jon just needs to spend time to himself," Major told E! "I mean, there are many days that I wish that I talked to him in person instead of over the phone.
"But that's just the way it has to be right now, so if we're better off as friends and that means that people kinda leave him alone and just let him be the dad that he wants to be, then I'm willing to do that for him."
Meanwhile, Glassman, who insisted to RadarOnline.com yesterday that she and Gosselin have "always been together," apparently wants to make sure her man gets out enough.
The seemingly on-again duo were reportedly treating fellow patrons to shots in the wee hours this morning at Lexington Bar and Grill in NYC and they didn't vacate the premises till close to 4:30 a.m.
Gosselin told E! last month that he cared about Major. "My focus is on my relationship with my kids," he said. "My personal relationship is private."