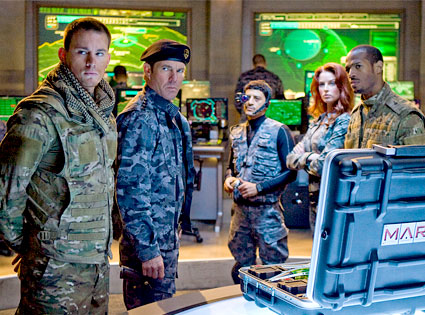 Frank Masi/Paramount Pictures
If you thought bad buzz and bad reviews would take the pop out of the popcorn-picture debut of a 1980s toy icon, you forgot one thing: It's G.I. Joe, man!
G.I. Joe: The Rise of Cobra ruled the weekend box office with a $56.2 million debut, its studio estimated.
Meryl Streep and Amy Adams' Julie & Julia looked big in its own right with a $20.1 milion take, while Judd Apatow and Adam Sandler's Funny People fell flat—and all the way from first place to fifth place, with a $7.9 million gross.
Drilling down into the numbers:
• G.I. Joe's take is the fourth-biggest ever for an August opener, per Box Office Mojo stats. Only The Bourne Ultimatum, Rush Hour 2 and Signs collected more dough.
• If you judge a movie by how much of its budget it makes back in its opening weekend, then that's where the G.I. Joe story gets tricky. The film cost a reputed $170 million, meaning its debut left it well short of matching even half that amount. At least on the domestic side. Worldwide grosses weren't reported yet.
• Julie & Julia cost about $40 million to make. So go ahead and call it a hit already.
• Streep's been on a roll of late, but Julie & Julia's debut does not rate as her biggest. This decade, Mamma Mia!, The Devil Wears Prada and even The Manchurian Candidate were bigger.
• According to Sony stats, Julie & Julia played best among people who think G.I. Joe dolls are supposed to be 12 inches tall and have kung-fu grips. (Translation: Sixty-four percent of the audience for the Nora Ephron-directed foodie fest were age 35 or older.)
• The good news for Funny People is that in a summer of Year One, Brüno and even X-Men Origins: Wolverine, a 65-percent second-weekend plunge is almost nothing. Almost.
• The new thriller A Perfect Getaway had an imperfect debut: Seventh place, $5.8 million.
• In its fourth weekend, (500) Days of Summer ($3.725 million) cracked the Top 10.
• In its seventh weekend, and with audiences apparently only having time for one toy movie at a time, Transformers: Revenge of the Fallen ($3 million) fell out of the Top 10.
• Among the summer's biggest blockbusters—movies grossing more than $250 million—Revenge of the Fallen had the shortest stay in the Top 10, with the exception of Harry Potter and the Half-Blood Prince, which is only its fourth weekend and still running hot.
• Revenge of the Fallen made the most of its relatively brief run: a $393.7 million haul, tops for the year so far.
• The Hangover lasted (and lasted and lasted…) in the Top 10 for eight weekends. The $35 million comedy exits with $262 million, the third-best gross ever for an R-rated movie.
• Also exiting the Top 10: Ice Age: Dawn of the Dinosaurs ($185.2 million through Thursday, per Box Office Mojo), which ends up No. 2 among the three Ice Age movies; and The Proposal ($151.9 million through Thursday), which ends up No. 1 among Sandra Bullock movies.
• The Paul Giamatti indie comedy Cold Souls was big enough in limited release—$63,350 off seven screens—to hold off Julie & Julia for the weekend's best per-screen average.
• Another indie comedy, Paper Heart, did OK: $206,000 at 38 theaters. It just didn't live up to its Superbad parts (Michael Cera, Seth Rogen).
Here's a complete look at the weekend's top-grossing films based on Friday-Sunday estimates as compiled by Exhibitor Relations:
1. G.I. Joe: The Rise of Cobra, $56.2 million
2. Julie & Julia, $20.1 million
3. G-Force, $9.8 million
4. Harry Potter and the Half-Blood Prince, $8.9 million
5. Funny People, $7.9 million
6. The Ugly Truth, $7 million
7. A Perfect Getaway, $5.8 million
8. Aliens in the Attic, $4 million
9. Orphan, $3.73 million
10. (500) Days of Summer, $3.725 million