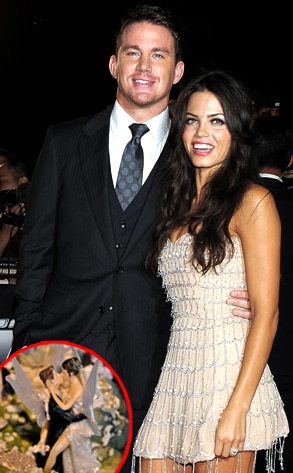 We know Channing Tatum is just as scorching hot as Scarlett Johansson—their Do-Me Meter ended in a superclose draw. But C.T.'s lovely new wife and Step Up costar, Jenna Dewan, ain't so blah herself.And unlike ScarJo and her always-missing-in-action hubby, Ryan Reynolds, the totally cute new Ms. and Mr. were in total postnuptial bliss at the G.I. Joe screening at Grauman's Chinese. Nice to see a celeb couple totally not in denial of one another! (Scar and Ryan? Robsten? You listening?) Almost didn't recognize Chan without his shirt off, to be honest. Good thing he was holding tight to his own G.I. Joe action figure while being interviewed, so we could know who we were dishing with.So how's the superstud handling his first month of marriage? And what the ef was up with that crazyass wedding cake? Channing exclusively gives us the answers:Describe life as a newlywed?Exactly the same as it was before I was a newlywed. If you do it right, I think it doesn't change.
A more important Q: Who decided to put fairy wings on the horny-acting bride and groom on your wedding cake?
Who do you think? "Oh, it's mine! I love fairies!" Definitely, it was all [Jenna]. She's a little magical being herself. She wants everything to be magical.
Too friggin' adorable. Especially since manly man Chan agreed to let Jen have her girly theme for their big day down the aisle. Buff, a great dancer and a total gent? Good thing you locked that down asap, girl!