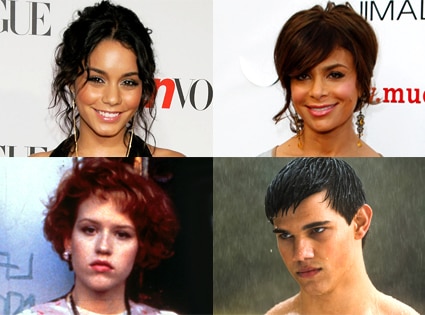 It was the ladies who were bringing the noise and the funk this week—whether they meant to or not! Between Paula Abdul, Vanessa Hudgens, Megan Fox and Kate Major, we could barely get a word in edgewise.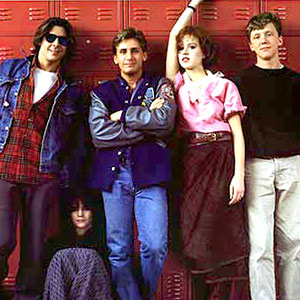 But we did, of course, and here's our rundown of the biggest, baddest stories:
1. Paula Abdul twittered an end to her American Idol career and, just like that (snap!) Victoria Beckham and Katy Perry are lined up for next season. We, for one, are going to miss the sweet (if not smooth)-talking judge and, if indeed there is no last-minute switcheroo, Perry may have to kiss a lot of girls to hold our interest. And there are many more who feel the same way.
2. Vanessa Hudgens continues to rue the day she learned how to work a cell-phone camera. What is up, girl?! More naked pics hit the Internet, but sources told EOL's Mark Malkin that they were taken even before the last batch that threatened to derail her promising teen-queen career a couple years ago. Oh, great, so these photos were even more underage. Yikes.
3. We took a major timeout Thursday to mourn the sudden passing of John Hughes, who nearly single-handedly eased the coming-of-age for millions of '80s-era adolescents—and proved that it's OK for redheads to wear pink. And from the look of all the Facebook and Twitter tributes, not to mention the reactions from the stars who worked with him and those who just loved his movies, there is no one generation that can call Hughes its own. He belongs to the teenager inside all of us.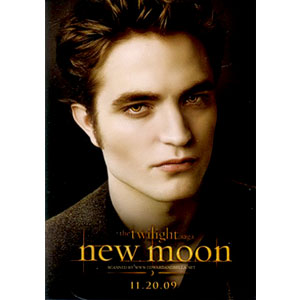 The Breakfast Club, Cast Universal Pictures
4. Jon & Kate Plus 8 returned to TLC with little fanfare after the breakup-induced hiatus, while Kate Major dished to E! News about hooking up with Jon Gosselin, his other gal-pal, Hailey Glassman, and what she hopes the future holds for her and the soon to be divorced father of eight. Though it turns out J.Goss still appears to have eyes for Hailey, and Kate 2.0 thinks he needs time off from relationships to focus on his kids. Go figure the difference in opinions.
5. Tuesday was National Megan Fox Awareness Day. Why? Because some guysites decided to ignore her, and we felt it our duty to pick up the slack.
6. You can eye the new New Moon posters here, as well as catch up on what the fashion mags are saying about the ladies of The Twilight Saga (which, for now, still includes Rachelle Lefevre). Meanwhile, the Awful Truth has some theories about what Kristen and Rob are up to as they await Monday's Teen Choice Awards, and there's a battle brewing between Stephenie Meyer and this woman who thinks she came up with Breaking Dawn's key plot points first.
Robert Pattinson, New Moon Poster
7. So You Think You Can Dance crowned its fifth champion—and it wasn't Evan, despite the massive amount of love that gathered in his corner week after week. We were quite satisfied with Jeanine's ascension to the throne, however. Here's hoping she doesn't get too many of Adam Lambert's fans in the front row when she goes on tour.
8. Ew, Ryan O'Neal...gross! It's right up there with the 53-year-old guy who thinks he's engaged to Miley Cyrus.
9. All was relatively quiet on the Michael Jackson front, as Katherine Jackson was officially granted custody of his three kids and the executors of his estate gear up to keep the King of Pop's image alive and lucrative. Family, friends and colleagues continue to wait for answers that only science and a thorough police investigation can provide. And would you go to Vegas to visit Neverland?
10. Noteworthy: Chris Brown's sentencing was postponed...Rihanna will perform on the Jay Leno Show premiere...Mark Wahlberg married his baby mama...Ali Larter swapped vows...Cocaine contributed to Billy Mays' death...The Bachelorette's fiancé denies stepping out on her...Steven Tyler is sidelined with a broken shoulder...Kevin Costner avoided a tragic stage accident...Shemar Moore has a broken leg...Ashley Judd's going back to school...Madonna's not going anywhere near Slovenia...Ashton and Demi made an emergency landing...Michael Douglas' son was busted for allegedly peddling meth...Tom Sizemore pulled a Tom Sizemore and was busted for domestic violence...Prolific screenwriter Bud Schulberg died at 95...Onscreen mortal-vampire couple Anna Paquin and Stephen Moyer are engaged in real life...Hoping to find demon love herself, Paris Hilton's going to be on Supernatural...Kim K. and L.C. are going to guest judge on America's Next Top Model...President Barack Obama turned 48...Tom Colicchio and wife welcomed a son...Jennifer Aniston's cool with the "lonely girl" talk...Britney and Lady Gaga scored nine MTV VMA nods apiece...Mary Lynn Rajskub tied the knot.