If you thought last week's third season premiere of HBO's hit series Vampire Porn was sexy, just wait til you see the next two episodes!!
While some of you are still calling this show True Blood, you'll come over to the VP side when you see what's going down. I just talked to the cast for scoop, and also some Glee insiders regarding the whereabouts of one Mr. Jonathan Groff.
And of course, given that it's June we have so much other hot TV scoop to talk about so fire away with your questions...
...
...
Hello?
Hello?
Anybody out there? Anybody with a question about TV?
...
Recipes? The finer points of sock-drawer organization? OK, people I know the TV season is over but there are some good shows to talk about so fine! I'll just make up my own questions this week.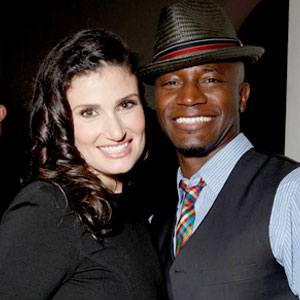 Todd Williamson/Getty Images
Wanda Two Saints.: Kristin, you're so pretty. If Idina Menzel returns to Glee next season, any chance her hubby, and fellow Broadway star, Taye Diggs will join her? And if so, can Fox cast you as the third party in their love triangle?
We just chatted up Taye and asked him the exact same question—and Spoiler Alert—he's onboard! "I would love to do it," Taye gushed at the prospect of guest starring on Glee. "I love the show; I'm a straight up fan. It's so enjoyable to watch and to see a show for people who to sing and dance. Plus, I love how they integrated Idina into the show, and I would love to be a guest." Ryan Murphy, Shonda Rhimes, are you guys hearing this?! Clearly, we need a Glee/Private Practice crossover.
Kristin Dos Santos: I'm so glad you loved the Glee finale as much as I did! Do you know if Jonathan Groff will be back?
I'm hearing that producers "definitely want him back" at some point, so yay! My bet? He'll show up as the new coach of Vocal Adrenaline, or an assistant coach now that Shelby has a newborn at home and can't spend so much time devoting herself to kids who can't even look like they can cure cancer. By the way, Ian Brennan (the writer/exec-producer who writes most of Sue's awesome lines) saw my Tweet on finale night ["I think we all learned a valuable lesson tonight: Purell up so you don't catch poor. #JaneLynchForEmmy #GleeWritingForEmmy"] and emailed me: "So glad you liked it. Finale is my favorite episode. And get that baby immunized against poor." Don't think I didn't already book an appointment with my son's pediatrician.
Mrs. Veitch: Hi Kristin, I'm your biggest fan. What's the word with My Boys? Is that coming back soon?
Good news for My Boys fans: P.J. and co. will be back on July 25! The not so good news? Stars Jordana Spiro and Kyle Howard both have new shows (Love Bites and Perfect Couples, respectively) that are coming out this fall. That doesn't exactly scream renewal possibilities for My Boys. But hey, we'll be talking to Jordana next week, so if you have any questions for her and/or desperate pleads to keep My Boys alive, you know where to put them.
And now all joking aside, some real questions from you fans...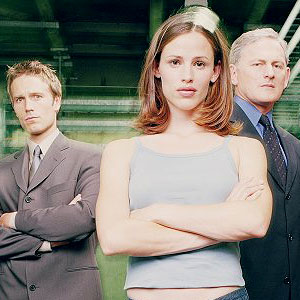 ABC
Edwin: Any update on your scoop that ABC is working on a new Alias? And by the way, that Pick Your New Fave thing was so bogus because JJ's new show wasn't there. What gives?!
The Alias idea is just that for the time being—an idea. I'm told it most likely would be a complete reboot and not include any of the original cast (though something tells me if Jennifer, Bradley, Victor or Michael wanted to take part, they wouldn't be kicked out of the casting session). As for JJ's new show Undercovers, it did rank as the second most anticipated NBC show, so that's something! JJ himself tells me it's a "very different show" from Alias. "It's definitely in the same genre," JJ says, "but it's much more a throwback to like the Hart & Hart days of like, really light and fun kind of breezy romantic sexy type show. It's not heavy mythology at all." No Rambaldi?! Damn! I actually just got a copy of the pilot so I'll be watching that tonight.
Rebecca in Ipswich, Mass.: What new fall shows are you liking the most that you have seen the full first episode of?
You can see the one show you all are most looking forward to here. And update: We just added the full rundown of how all the new shows ranked in each network. I haven't seen everything yet but I definitely loved Hawaii Five-O and The Event.
Greg in Philadelphia: Are you a fan of 100 Questions?
It's a cute little summer show, but what I'm really digging is 100 Questions' David Walton (Wayne), and in a few weeks we'll actually get to see how Charlotte (Sophie Winkleman) those meant-to-be maybe lovebirds met in a flashback episode.
Jacquie in Portland, Ore.: Have you seen Boston Med yet? As a doctor, I'm wondering if I'll enjoy the show.
Speaking as the highly educated medical professional I am, you'll love it. It's Grey's Anatomy minus McSteamy, but with a whole lotta high octane real-life (and life threatening) drama. It's raw, but not too gritty. Just imagine you're getting a regular check-up with your doc...and there's a camera crew there, too. It's like that, and actually very cool. I say give Boston Med a-go.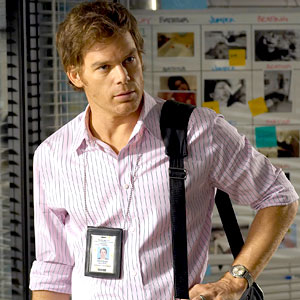 Randy Tepper/Showtime
Michael in Baltimore: Any new news on Dexter? I can't wait for it to return!
In addition to Julia Stiles' mysterious Dexter gig next season, the Showtime staple has signed both Shawn Hatosy and Maria Doyle Kennedy to multi-ep arcs in season five. Maria gets the privilege of playing little Harrison's new Irish nanny—hmmm, what about Cody and Astor?! And strangely enough, Shawn's "complex character" that "forms a unique relationship with Dexter" received a description nearly identical to Julia's. Coincidence?
Peter in Gainsville, Fla.: With The Event coming out this fall, is Jason Ritter done with Parenthood for good?
Obviously if The Event has as much success as it should (trust me!), Jason's time on Parenthood will be few and far between. Still, he wants it out there that he did not abandon the lovely Lauren Graham. "Hey, first of all, she broke it off with me," he jokes. "That door is not necessarily closed because we're both NBC shows, so I hopefully can do both. Maybe some crossover episodes." Having seen The Event pilot, something tells me that's not a very real possibility.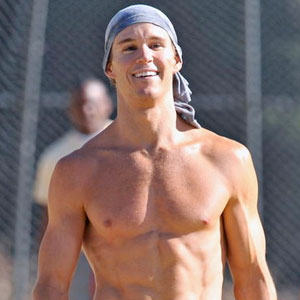 HBO
Deirdre: On True Blood, is Jason Stackhouse going to get a new love interest this season?
According to Ryan Kwanten, yes! And it sounds pretty serious. "She may just stick around for a little while" Ryan tells me.
Reginald: I need to know more about this True Blood sex shocker that is so twisted. Who does it involve?
You learned one half of the party here and the other half, who will be revealed in the third episode, has this to say about it: "It was actually the most shocking thing that I've ever read in a television script. My jaw dropped on the floor when I read it and thought, 'Oh my god, I actually have to do that.' Here's your script, pray that your parents will be okay when they watch this episode. They may not want to. It was a little uncomfortable, but we got through it and I'm working with the best people from the writers to the producers to the other actors and at the end of the day, I'd rather be on a show that's provocative and pushes the envelope than one that doesn't."
Maureen in Fresno, Calif.: How is Jason going to recover on True Blood this season after killing Eggs?
As you saw in last night's premiere, Jason Stackhouse and Officer Andy have a plan. Unfortunately, things aren't going to unfold as neatly as expected—particularly when Andy becomes the town hero for offing "serial killer" Eggs, and Jason's left dealing from some serious guilt, and not just emotionally. Says the superdelish Ryan Kwanten: "There may be something on top of that, because [Jason's] mental faculties aren't quite all there to start with."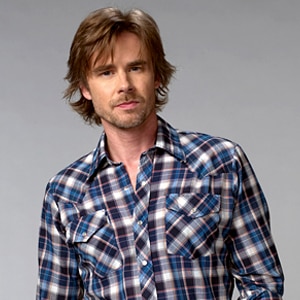 Steven Lippman/HBO
Tom in Wis.: Is Sam ever going to be happy on True Blood? He always gets the short end of the stick!
Based on the first three episodes, our guess was no, Sam will never, ever find happiness. Sigh. But lucky for you shapeshiftin' lovahs, Sam Trammell tells us: "Yes, you will see Sam happy. Momentarily."
Kelly in Toluca Lake, Calif.: Please tell me we won't be seeing Bill's maker Lorena again on True Blood for a very long time.
I wish I could, but sadly the wackadoodle Lorena will be making a very unwelcome return to True Blood this week. And per usual, she's piling on the drama superthick. Luckily (sorta) for Bill, this lights a fire within—operative word being fire.
Gretchen in Scottsdale, Ariz: Thank jesbus for Friday Night Lights or my summer TV watching would be dismal. Can you give me any scoop?
FNL will continue to be awesome, that's for sure. This week, we'll see the Landry/Vince/Jessica storyline develop a bit more, which means more Landry for everybody! And that's always a good thing. Another person who always needs more screen time and certainly gets it this week: Tim Riggins. Enjoy a series regular Taylor Kitsch while you still can, folks.
Tena in Quincy, Ill.: Friday Night Lights fan here! Please give me any scoop you have!
How about some excellent scenes between Julie and Tami coming up? I love me some Connie Britton, and when she takes her daughter on a road trip to tour some colleges, awesome-ness ensues. On a more somber note, Tim is about to make a discovery about his brother Billy that will eventually lead to some seriously crappy situations for our Riggins bros.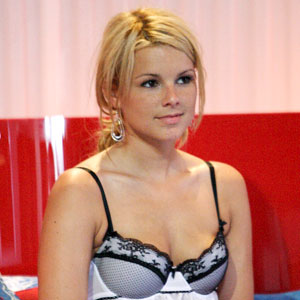 Julia in Cleveland, Ohio: Anything fun coming up on The Bachelorette?
Ready to hear the vocal stylings of Mr. Kasey? No?! Well you better be because mid-solo date with Ali tonight, Kasey breaks into song simply to show the Bachelorette just how much he cares. Yes, this does make Ali laugh out loud (as did we!), but it's sweet nonetheless, and Kacey's strong feelings toward Ali ultimately lead to showdown with soon-to-be scandal bringer, Justin.
Brett from Los Gatos, Calif.: So glad Lie to Me came back last week. What do you have for me?
Is it just me, or has Tim Roth's accent gotten thicker? Hmmm. Coming off an intense episode last week, the Lightman group does not get a break from the crazies with this week's case. The gang has to investigate a bombing that nearly kills Eli, and an IRA terrorist from Lightman's past is suspect numero uno. Warning: the scenes between Roth and guest star Agnus McFayden equals heavy accents that might make your brain hurt.
Jeff in Las Vegas: The Good Guys, please.
Ever wonder what you could do with $3.52? If you're part of The Good Guys gang, you can bring down a drug smuggling ring, duh! Poor Dan (Bradley Whitford) lets his rough interrogations tactics get the better of him, he's forced to solve a crime on the money in his pocket—that amount being, you guessed it, $3.52.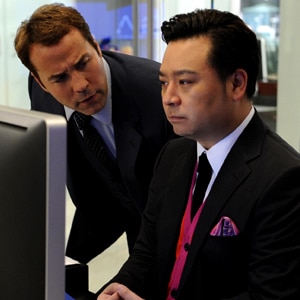 Claudette Barius/HBO
Miller in Fontana, Calif.: No Entourage in the Spoiler Chat for weeks. Help!
We do have some scoop, so let's hug it out, bitches. According to Kevin Dillon, aka badass big bro Johnny Drama, things are Entourage as usual this season. "Drama still has no lady," says Kev. "His focus is really just on getting a job. Maybe he'll meet a girl later. Who knows?" Plus, this season boasts the reunion to top all TV reunions. "You're going to see tons of Ari and tons of Lloyd, too. They're back together!" he promises. We'll be on the red carpet at the premiere of Entourage this Wednesday, so start sending Q's our way now!
Benji in Long Island, N.Y.: I know it's not one of your normal WWK shows, but do you have any info on The Hills finale? I'm really sad it's ending.
You and me both. OK, not really, but I do have a li'l something to help tide you over. The Hills' queen bee Kristin Cavallari tells us the cast is getting sad, but ready for the end. "I definitely think it's time story-wise," she says. "Everyone's ready to move on. We have another month of shooting, so now we're all getting along and having the best time. But it's ending at a good time and we're going to go out on a high note."
Britney from Playa Vista, Calif: I'm really looking forward to The Real L Word. Is it going to be a reality show worth watching?
According to the first two episodes, absolutely! Not only do we get a full cast of different characters with real jobs (take that, Hills people!), but the opening of the series includes some fairly brutal honesty about when the girls first realized they were gay. And I'd keep your eye on Mikey. She's got a feisty attitude, and seeing her go off on some dumb models is the premiere episode is pretty awesome. We're looking forward to more from her.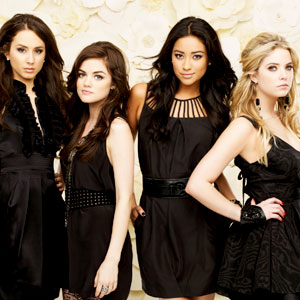 ABC Family/Andrew Eccles
Justina in Highlands Ranch, Colo.: I loved Pretty Little Liars! Anything juicy coming up?
Aside from all the "A" dramz, Spencer (Troian Bellisario) is going to continue actively pursuing her big sis Melissa's (Yep, that is Paul Wesley's galpal and One Tree Hill's psycho Nanny Carrie, Torrey Devitto) fiancé, Wren. The repercussions will be pretty brutal for Spenc when Melissa discovers their secret.
Gina in Boise, Idaho: Sad to see you gave Huge a "pass" in your E! News piece, but since I'm still planning on giving it a try, what can you tease?
To be fair, I gave it a pass in reference to some other seriously good summer TV, but it could definitely pick up after the first few episodes. We'll have to see. As for a good tease, I'll say this: In the premiere, one girl can't hack it at camp and not only continues binge eating, but demonstrates signs of a dangerous eating disorder that results in her dismissal.
Gabbie in Minneapolis, Minn.: Make It or Break It scoop would be great.
In the premiere, the girls get some bad news: they've all been disqualified from the National team, thus no trip to compete in the French Invitational. Dun-dun-dun! Now talk amongst yourselves.